Wednesday, April 17, 2019 / by Jessalyn Inman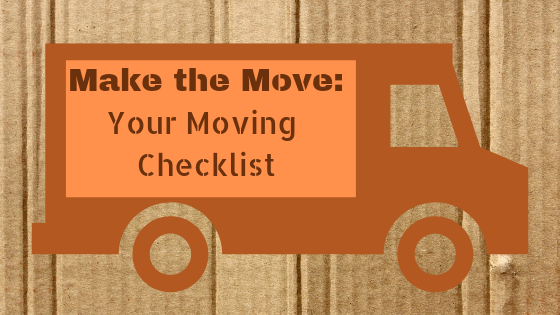 You've found your dream home! But now you have to move. Moving can be one of the most stressful aspects of finding a home. In order to make things go as smoothly as possible, planning is key. Once you have a move-in time frame, you will be able to start planning your moving count-down.


6 Weeks Prior to Your Move
Sorting Possessions

Start making a list of items you actually want to take with you to your new home.

Make plans to donate, sell, or dispose of the items you do not want to move.

Start gathering moving supplies such as boxes, tape, packing paper, etc.

Save all moving receipts. Some moving expenses are tax deductible. Check the current

tax code for requirements.

Place your legal, medical, financial, and insurance records in a safe and accessible

place.
4 Weeks Prior to Your Move
Postal Service

File a change of address with your post office to have your mail forwarded to your new address on your move-in date.

Notify any other mail subscriptions you might have such as magazines, newsletters, etc.

Utilities

Contact your current utility companies and internet provider of your move-out date to have your utilities shut off at your current address.

Also, make sure to let your utility companies know to turn on services at your new address on your move-in date.

If you are making a long distance move, you may need to find out your new utility companies.

Packing

Start packing up infrequently used items such as decorations, things in storage, and off-season clothing.

Distance Moves

If you are relocating pets, start making travel arrangements for them.

If you are driving, take your car in to get tuned up.

Retrieve medical records to present to your new health care professionals.

Back up important computer data on a portable hard drive or flash drive.
3 Weeks Prior to Your Move
Packing

Start by packing items you do not need on a daily basis such as books, movies, miscellaneous dishes/kitchen appliances, extra bedding, etc.

Pack items by rooms. For example, if you start packing your toiletries in one box, don't start throwing shoes in there too. Keeping your items sorted will make the unpacking process easier.
2 Weeks Prior to Your Move
Confirmation

Confirm your travel arrangements and move-in date

Confirm moving help

Professional or personal

Banking

Arrange to close or transfer bank accounts.

Pick up items from your safety deposit box.
1 Week Prior to Your Move
Pack a survival kit of clothes, medicines, special foods, etc. to carry you through the day

while you unpack.

Finish packing all boxes with the exception of the items you will need in the final week.

Notify the post office of your change of address. This can be done online.
The Final Day
Have handy a tape measure, packing tape, and tools to take apart furniture.

Pad corners and stairways of house.

Lay down old sheets in the entry and hallways to protect floor coverings.

Remove hanging fixtures.

Pick up the rental truck and a dolly to move heavy boxes.

Check oil, tire pressure, and gas in your car.
Moving Day
Be sure everyone has their survival kit for the move.

Keep the keys to your new home handy.

Don't pack your phone charger away!

Have a safe and happy move!
---